Bicycle
April 2 - April 24, 2004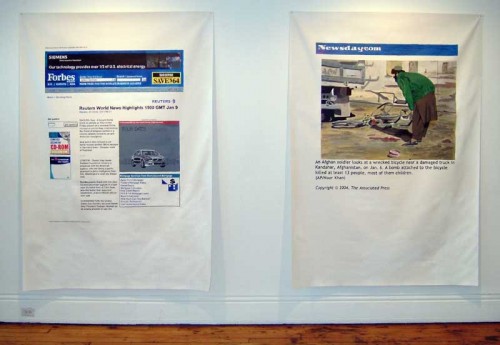 Paul Petro Contemporary Art is pleased to present its second exhibition of work by Rainer Ganahl. In 2000 we assisted Ganahl in the production of Basic Canadian, an exhibition which explored Canada's unique language history. In Bicycle Ganahl explores the politics and poetics of the bicycle.

This exhibition is produced in cooperation with the Images Festival of Independent Film, Video and New Media. Rainer Ganahl is an Austrian/American artist based in New York City. In 1999 he exhibited in the Austrian Pavillion at the 48th Venice Biennale. Ganahl exhibited Basic Canadian at Paul Petro Contemporary Art in 1999 in conjunction with the Images Festival. He will have an exhibition this year at the Kunsthalle Wien, Vienna. Photographs from Ganahl's Seminars/Lectures series appeared in the group exhibition Lecture Notes at the Mount St Vincent University Art Gallery in Halifax in Jan-Feb 2003. He will exhibit at the Museum of Modern Art in Vienna in 2005.

Here is a text by Rainer Ganahl:

"For my second exhibition at Paul Petro Contemporary Art I have grouped a series of works in a various media around the bicycle. The bicycle is not only my main vehicle of transportation but also my urban eyeglass, i.e. an extension of my visual and aural organs. As such it acts as an urban social interface. While working with my dreams over an 8-month period I came to the surprising realization that I was constantly dreaming of my bicycle in relation to the comprehension of my external world. I have been a bicycle rider since early childhood.

"My earliest childhood memories include a 4-wheel bicycle birthday present that was later reduced to 2 wheels. I have never been able to stay in a place for long without a bicycle, including in Tokyo where I was harassed daily by the police who presumed me to be a bicycle thief.

"Bicycles have complex social realities and come to symbolize some kind of utopian green-friendly mobility. Bicycles were among the first products that were outsourced to China and other low cost producers, where bicycling now means being poor and confronted with the exploding class of new car owners. As a child in the 1960's my father gave me a new bicycle that he purchased from a truck driver who had privately imported it from Prague. At the time, Prague was behind the iron curtain and this had been my first conscious exposure to the inequalities of economic orders that today constitutes the backbone of globalization. That bicycle was most likely diverted from the production line of the former Soviet-style economy. This would become the first bicycle stolen from me in rural alpine Austria. After I moved to New York many years later (and where I became used to having my bike stolen) I was sometimes forced to purchase bicycles for next to nothing from people I presumed to be bicycle thieves.

"In some countries poverty can make people with bicycles look privileged. I observed some of that in Tirana where the streets are mostly filled with luxury cars of which it is claimed that 60% are stolen from Western European by mafia. The ink pen drawing In Poor Albania, Mercedes Rules Road, By Daniel Simpson, The New York Times, 10 November 2002 (2003), addresses these issues of poverty that later inspired me to make the video Bicycling Tirana. This video is an 8 minute bike trip peddling against the traffic in the centre of Tirana with a camera in hand, violating traffic and risking accident. During the entire ride I'm not touching the steering wheel, provoking an additional element of danger to the filming/performance on two wheels. The capital of the poorest country has in its centre a circular complex of buildings built in the early 20th century by the former Italian colonizers.

"E-Mail Error, Monday December 1, 2003 7:40 PM (2004), is a pencil drawing from my E-Mail Error series as a basis for my detailed copying. Given the context for this show, I'm using the story about one of my bicycle incidents in the streets of New York email to my Toronto dealer Paul Petro. This story itself shows how a bicycle can get you in trouble in a highly contested, aggressive urban centre where different velocities meet and compete on different wheels.

"For my mail art piece Use A Bicycle (2004), sent from New York City before the show, I have used postcards that show and commemorate the World Trade Center. Instead of the usual US Postal stamps I glued self-made stamps from drawings of mine that are based on the terminology characterizing the Bush administration: 9/11, Al-Queda, Operation Enduring Freedom, Homeland Security, Operation Iraqi Freedom, Shock and Awe, Axes of Evil, and others. The postcards simply display the address and the words "Use A Bicycle"- words that can be read and interpreted in a variety of ways. This work with its legal ambivalence, is playing with the notion of symbolic civil disobedience. To my relief all with the exception of one of the sent cards arrived safely.

"The two news paintings Forbes.com Reuters World News Highlights 1900 GMT, 1/9/04 (2004), and Newsday.com Bicycle Bomb, 1/6/04 (2004), bring a sense of reality to the bicycle that is shocking and dramatic: bicycle bombings that occurred only a couple of months ago. I noticed these bombings in the news and included these news items in my More News series. This series consists of realistic canvas paintings of news items taken from mainstream U.S. news websites which include all of the peripheral information such as advertisements. The bicycle is usually associated with non-aggression and environmental friendliness. In these paintings the bicycles are involved in the horrific and unsettling crimes that are paraded on our news horizons. The suicide bombings that have become so frequent in the last couple of years are associated with issues of religious fundamentalism, the Middle East, national self-determination, and oil. The interpretation and representation of these theatrics of death and destruction in the media is as contested as the complexity of the political, economic, social, religious, and ideological problems that create the context for these incomprehensible and self-annihilating acts of absolute violence. As is the case with all my news related artworks I reproduce mainstream news reports as they flood us, the active and passive consumers of media. I see this freeze-framing of our rapid moment changes in our news content as part of the tradition of European history painting. It is ironic the tastes of "Old Europe" for history paintings partially coincided with its imperial interests and colonial actions.

"Since I have the bicycle as my axis of reference, I also include two works-on-paper from my two of my study series, My First 500 hours of basic Arabic and My Second 500 hours of basic Chinese that show the word bicycle somewhere in their midst: Basic Arabic (Study Sheet) (Closed) New York 1/29/04 and Basic Chinese (Study Sheet) (Closed) New York 2/19/04 (2004).

"The show is rounded out with a video entitled Bicycle which shows me circling 51st Street and 8th Avenue in New York with a person sitting on my steering wheel. It is a game that plays with New York traffic as well as with the street markings and the crossing pedestrians. It illustrates the famous indifference of New Yorkers towards anything going on in their streets. This street behaviour is in stark contrast to the one found in most European cities where I am regularly fined for disobeying traffic rules and chased by irate drivers. I was even attacked once by a car driver who struck me, knocked me off my bike, and drove away because (as he indicated) I had previously drove through a red light. It's no wonder then I dream of bicycles."

- Rainer Ganahl,
March 2004

For more information and photos of the show please click here.