Group Exhibition
History Becomes You
September 6 - October 5, 2013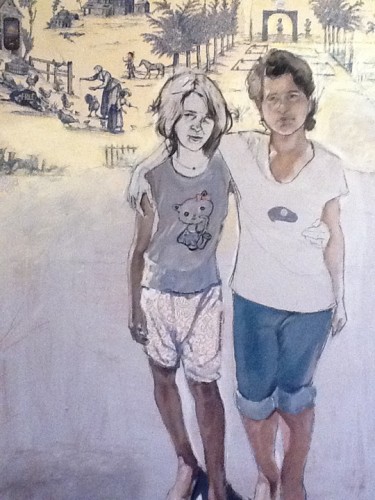 MARLENE CREATES

SADKO HADZIHASANOVIC

OLIA MISHCHENKO

KENT MONKMAN

PAUL MORRISON

GED QUINN

CAROL WAINIO


The present is a place between the future and the past, the future the siren that draws us on like a sucking drain, the past the demon-memory that jealously possesses us.

-- Tom Dean, from Excerpts from a Description of the Universe 1986



Throughout high school and university I was an avid New Yorker magazine subscriber. Each weekly issue proposed a cultural lifestyle concentrated in the city of its name. Here in Toronto we made do with its theatrical by-products while actively producing our own living culture. For the literary-minded each issue was a boon.

Alongside the features, reviews and cartoons was the advertising. Here we found the idiosyncracies of the eastern seaboard. In amongst the ads for topsiders and loafers were the ads for Blackglama fur coats. From the late 60's through the early 90's the ad campaign maintained its aura of glamour and celebrity with a variety of Hollywood and New York actresses draped in a full length Blackglama mink coat with the tag-line "What Becomes A Legend Most?" and the message Blackglama Becomes You.

The line we can draw from that message to the title of this exhibition is not as long as you might think. From the self-aggrandizement of the leaders of nations who script their histories for posterity to the self-styled celebrities who window-dress their public lives for media consumption we are constantly facing the construction of realities while we contemplate our own.

Are we the sum of history or is it our impact on history that shapes us? Do we construct history in a flattering light that becomes us or do we become the history that we construct? Do the artifacts or signs of history anchor us in the present or as having a past? And finally, does a work of art provide the deepest field of speculation on these ideas? I put the final question to Carol Wainio and here is what she said:

"For me works of art definitely provide a deep field of speculation for these questions, and always have – but that applies to any form of cultural production, not just the 'high art' of a discreet art history. These are often the questions or qualities which are for me the most interesting and evocative when looking at artifacts or looking at things in museums. Not 'what a great work of art' an individual piece is, or how it fits into or furthers the art historical discourse, but rather, how this object speaks about its time in as broad a way as possible. For me, it's the kind of anchored/structured historical imagining which any historical work of art – high art, folk art or utilitarian object, elicits which I find fascinating.

"This kind of wondering has always been a fundamental question and instigator for me. A lot of past work, from the 80s on, has dealt in some way or another with aspects of history – not as a specialized subject, but as a way of understanding the now. Much of the work from the 80s dealt with the shift to modernism and to a kind of self-consciousness, and as such involved an exploration of the loss of a an earlier sense of historical continuity."

This exhibition explores the relationship of history to the individual. From Ged Quinn's Utopia/Dystopia to Olia Mishchenko's Don Blanche 2010 the juxtaposition of historical narrative and contemporary reference offers ways to consider the impacts of history and our connection with the past.

Paul Petro


MARLENE CREATES lives and works in Portugal Cove, Newfoundland & Labrador. Over the course of her career, Creates has been concerned with the relationship between people and the land, often photographing traces of human presence in rugged, natural environments. Focusing primarily on Newfoundland & Labrador, her work explores how individuals and communities relate to history through a land steeped in strong cultural and political contexts. Among the awards she has received are the 1996 Artist of the Year Award from the Newfoundland & Labrador Arts Council, the 2009 CARFAC National Visual Arts Advocate Award and in 2013, as part of the CONTACT Photography Festival, Creates was awarded the BMW Exhibition Prize for her concise survey exhibition at the gallery, Marlene Creates: selected works from 30 years, 1982-2012.

SADKO HADZIHASANOVIC studied at the Academy of Fine Arts in Sarajevo, Bosnia and earned his MFA at University of Belgrade, Yugoslavia in 1984. He has been based in Toronto since 1993. With his portraiture-based drawings, prints and collages, Sadko explores the construction of identity and its cultural and social implications, drawing from historical precedent as well as current popular culture. He has exhibited his work broadly in Canada, the US and across Eastern Europe.

OLIA MISHCHENKO was born in Kiev, Ukraine and is currently based in Toronto, where she studied architecture and art history at University of Toronto. Mishchenko works primarily in drawing, ranging from miniature bookworks to large-scale wall works, with meticulously rendered scenes of built structures and industrious figures. As Mark Kingwell observed in a text for This Magazine, 2011, "Mishchenko doesn't celebrate architecture, she investigates the very idea of shared space, of public meaning, of makers and made. In their lighthearted manner, these joyous political artworks offer fresh sketches of the place where individual identity meets its collective other." Mishchenko actively works with several artist collectives and teaches at OCAD University in the Environmental Design Programme.

KENT MONKMAN is an artist of Cree and Irish ancestry working in a range of media, including video, installation, performance, painting and print work. As both target and figurehead for an aesthetic language of oppression, Monkman's playful "cover" versions of early colonial landscapes are designed to open up the past for re-examination. He participates in contemporarry myth-making, presenting history as a fluid and subjective interplay between fact and fiction and, in the process, recuperates aboriginal power and customs [Galerie Florent Tosin]. Recent exhibitions include the current Sakahan: International Indigenous Art at The National Gallery of Canada, the 2012 MASS MoCA exhibition Oh Canada, and the 2010 Sydney Biennale.

PAUL MORRISON was born in Liverpool and currently lives in London and Sheffield. Morrison's iconic take on landscape, portraiture and botanical illustration employs appropriation, digital modification and collage to create transhistorical mashups. Morrison has been included in several museum exhibitions in the US, including the Museum of Modern Art, New York, UCLA Hammer Museum, Los Angeles, and The Fogg Museum at Harvard, Cambridge, and has exhibited widely in the UK and Europe.

GED QUINN was born in Liverpool and studied at the Ruskin, Oxford, Slade School of Art, London, the Kunstakademie Dusseldorf and the Rijksakademie, Amsterdam. Evolving from a spectrum of sources in art history, photographs, memory, newspaper cuttings and books, Ged Quinn makes paintings that revisit the tradition of European painting. His seductive canvases, which seem so recognizable, slowly reveal an extravagant mix of European art history and contemporary imagery. By superimposing contemporary references onto grand backdrops of European painting, Quinn develops his own environments and mythologies.

CAROL WAINIO was born in Sarnia, Ontario and studied at NSCAD, University of Toronto and Concordia University, where she earned her MFA in 1985. Wainio's paintings make use of anthropomorphized animals or hybrid figures, derived from a number of sources and references, including early fairy tale illustration, early advertising which relied on fairy tale, and 19th century illustrators such as J.J. Grandville, whose use of dressed animals allowed him to skirt censorship restrictions and comment on current affairs. As Wainio remarks, "As they have done for centuries, these kinds of hybrid figures may suggest questions about our hopes and aspirations, past and future, the changing relations of social classes, dress and consumption as display or camouflage, and the relation of humans to the environment, both historically and today." Wainio has exhibited work broadly in Canada and internationally, including The National Gallery of Canada, Ottawa; Glenbow Museum, Calgary; Musée d'art contemporain de Montréal; Stedelijk Museum, Amsterdam; and the Shanghai Art Museum.