Excerpts
photography
April 30 - May 29, 2021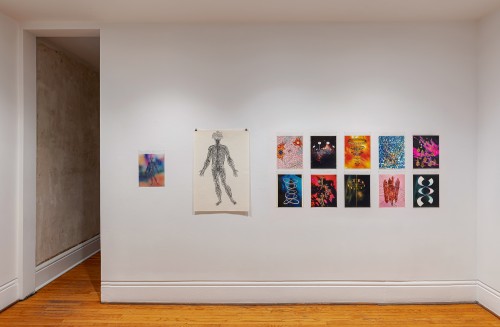 After moving from Guelph to Toronto, and graduating in 1980 with a BFA from York University, Robert Flack (1957-1993) joined the staff at Art Metropole and assisted General Idea with a variety of projects including layouts for FILE Megazine. During this period Flack developed his practice in drawing and photography and eventually produced the two series of works he is best known for, the seven chakras photographs in Empowerment (1990) and his ethereal final work, Love Mind (1992). Both bodies of work are distinctive of the artist's use of painted acetates overlaid on photographs that were then rephotographed to produce the final print. Empowerment and Love Mind can be found in the permanent collections of the National Gallery of Canada and the Ryerson Image Centre.

In the exhibition Excerpts we gather together earlier works and studio ephemera to provide insight into Flack's working methods and to highlight other photographic projects the artist produced during his all-too brief career. The exhibition also includes photographs of the artist by General Idea and Toronto-based photographer David Rasmus, with whom Flack shared darkroom time while printing their work. The exhibition is organized with the assistance of John Flack, the artist's brother.

A Feature Exhibition presented in partnership with the Scotiabank CONTACT Photography Festival.