Some Versions of Landscape
group exhibition
February 19 - March 20, 2021
Paul Petro Contemporary Art is pleased to present a reflection on landscape.

With the pandemic has come a poignancy of connection to our open spaces along with an elevated awareness of our porosity to both the natural world, as we once knew it, and the coronavirus. While we limit our mobility in order to stop the spread, we are contending with newer and more highly transmissible COVID-19 variants. What is real and what is imagined come together as we juggle our exposures. Slowing down means getting ahead.

Protectionist tendencies are preventing a freer and more equitable flow of vaccines across borders as countries grapple with production quotas and distribution. The consciousness of our own perimeters and our vigilance of entry points, to and from the house and in and out of respiratory systems, are also more heightened. Boundaries on all levels feel more emphatic.

The careful ministrations of our comfort thresholds are in a constant state of negotiation, and there is an ever-pressing call to arms by nations on behalf of the environment, all for the future health of the planet. Escaping into nature and seeking solutions are at once utopian and dystopian concerns. The terms feel more real in a pandemic.

In the act of viewership, the prospect of finding correspondences and recognizing ourselves is a generous act of submission, whether the experience happens firsthand or is circumscribed digitally on a screen. Either case holds forth the prospect of slowing down and looking closely, of forming a repose within the contents of a painting, a drawing, a print or a photograph, and chancing discovery.

When Marshall McLuhan came up with the term global village in the early 1960s we were finding ourselves on the threshold of an advancing technological structure that has fundamentally changed the ways in which we communicate and how we think of the world, from global village to global markets, to global warming. And nowadays, going viral means more than just the number of hits on YouTube or likes on Instagram.

In the 1970s and 1980s the term cottage industry took on more meaning as the prospect of becoming an information provider, by working from your home computer and having an electronic address, meant the idea of being able to get out of the city and set up shop anywhere. With the aid of a landline and a modem one could, what with telebanking and teleshopping, get away from it all while being at the centre of things.

Where once the cottage or campground meant the prospect of buffering oneself from the city, having an electronic device means the ability to bring it all with you. In 2020, escaping to the cottage meant isolating oneself from contact with the coronavirus while also opening up rural regions to the prospect of the virus being brought to their communities. Some Versions of Landscape offers a lens through which to look at this divide, between city and countryside, between the natural world and the built form, and between our historical occupation of land and our current custodial responsibilities.

We can begin with Robin Collyer's Camp, from 1986. This fibre-based photograph, printed by the artist, captures a wilderness moment with a cottage in mid-construction. The ambition for the building project to seamlessly integrate with its surroundings, or even be completed, remains an open question. Wood processed as particle board is a principle building material and is formed into right angles in relation to the irregularities of nature as a helpless embodiment of modernist aspiration.

In 1987, Rae Johnson (1953-2020) moved from Toronto's Queen St West to the town of Flesherton, two hours north of the city, and the subject of her largely figurative practice to date gave way to her home, her children and the natural surroundings of forest and pond. In Swamp Irises, August, Flesherton Pond, from 1999, we find a deep resolution of artist and place. When Johnson died last year, I wrote the following. "I've always loved and been mesmerized by this painting for its ebb and flow of consciousness, its reflected interlacing of clouds and blue sky on water, wind rippling both its surface and what we can see below, the meeting of water, land and light. And, in the strength and the beauty of the brushwork, I love how I see Rae."

In a similarly intimate relationship of subject and self we can consider a close proximity found in Fireflies, a new painting by Mélanie Rocan. Here, the complexity and fragility of an ecological microcosm of insect and plant life floats on a reliance of memory and the impulses of the artist's subconscious in the production of the work. With both Johnson and Rocan there is a point at which the subject of the work is a mapping of the psyche, a personal or mental landscape, that is acutely responsive to the surveillance of one's surroundings and one's resilience in relation to events in the world.

Also focused on a natural environment, a new untitled pen and ink drawing by Olia Mishchenko portrays a salt marsh at low tide, a primordial meeting point of land and water. The exposed terrain is populated by wild horses who have come to feed on the exposed grasses and are accompanied by birds. While known for her large and sometimes sprawling architectural investigations, and their functioning inhabitants, in this work the built form is alluded to ever so slightly. Beached on the surface of flat rocks is a small assortment of bottles and plastic conical pylons. Half-submerged in the water are large metal oil drums.

In Apprehension (Summer), a painting from 2017 by Carol Wainio, we have a forest encounter with Poucet, the title character and youngest brother who saves the day in Charles Perrault's fairy tale from 1697, Le petit Poucet. Poucet is on the inside of the forest looking for a way out. Sunlight is straining through the canopy. Two of the nearby trees have patterned trunks based on Gustave Doré's engravings from 1862, produced to illustrate an anthology of Perrault's fairy tales, while other tree trunks are surfaced with cross-cultural patterns and another is based on a child's found rendering of a tree. The word summer is tenuously inscribed in the lower right area of the painting. While dovetailing with the word August in the title of Rae Johnson's painting and in the time of year for fireflies in Melanie Rocan's painting, in Wainio's work we are led to question the veracity of the seasons as a means of categorization in our age of climate change.

Moving on to Marlene Creates' Looking at the City of Hamilton from Ten Paces Outside the Municipal Boundaries, Hamilton Pre-Amalgamation 2000 the viewer is invited to follow the artist's movement around and outside the boundary separating the surrounding region from these largely suburban views into the city of Hamilton, Ontario. Each of the thirty photographs depicts a sign which functions as an entry point in a circumnavigation of the city's limits in the year 2000, capturing a moment of civic history and a stage of land development that, from then to now, largely exists in memory.

In Jay Isaac's latest painting, Mural Study #13, we have a work of hard-edged psychological abstraction that could, at least in this viewer's mind, teeter towards a cityscape that plunges deep into the surface of the land and then rises up as a network of monolithic structures, clad in an expanse of green roofing, at once utopian and dystopian. The title's allusion to the mural suggests the capacity of the work, at a larger outdoor scale, to shape and inform, and perhaps instruct, the intelligible use of public space while recalling, if you will, the failed ideals of urban density propositions. The painting is by no accident installed in direct relation to Robin Collyer's Camp photograph.

In the next room, works by Gary Evans, Paul Morrison and Ged Quinn are grouped together. Evans spent his childhood in Weston-Super-Mare, a seaside town 30 km outside of Bristol, before moving to Oakville, Ontario and eventually attending the Ontario College of Art and Design. Morrison and Quinn are both from Liverpool, and live and work in Sheffield and Cornwall respectively. It is with a source of intrigue that these artists from the UK, all of whom draw from memory and in some cases from direct art historical references, have been brought together.

To quote a succinctly worded text on Ged Quinn's work, "richly layered with meaning and symbolism, Quinn's works combine complex histories and mythological references with the traditions of landscape, still-life and genre painting. Drawing on inspiration from art history, Quinn uses paintings by artists such as Claude Lorrain, Caspar David Friedrich and Jacob van Ruisdael as source material to form multi-layered narratives. Themes of religion, politics, literature and film permeate his works. Yet with decidedly Surrealist undertones, Quinn's dream-like paintings resist interpretation." Works in the exhibition are from Utopia Dystopia, a suite of etchings with watercolour accents and a lithographic overlay in the margins produced in 2011. Romantic landscape tradition informs a sublime backdrop to open-ended and post-apocalyptic scenarios that include a tiny Icharus falling from the sky in one work and an equally small landscape artist easel-painting in the corner of another.

In Paul Morrison's Calathidium silkscreens from 2006, the artist draws on botanical references such as historical engravings and woodcuts from the Northern Renaissance. He also incorporates contemporary animation techniques to cartoon effect. Morrison states, "I'm interested in cognitive landscape, the terrain that one sees, somewhere behind the eyes." In one work there is a classic far-shore reflecting landscape vignette framed by a close-up botanical theatrical proscenium. In another there is a medieval castle flanked by Bavarian pines and a rocky outcropping, with a densely inked woodblock effect that encodes the landscape surface with the weight of time.

The idea of a cognitive landscape brings us to Gary Evans and two small paintings in oil on canvas, Pond and Alley Study. The titles suggest familiar starting points in the natural world and in the world intervened upon architecturally. These worlds become considered abstractions that are grounded in place, arcs of painterly extrapolation. We know that these paintings are the result of long walks outdoors in between periods of lockdown and in response to the pandemic. They are also memories of known places revisited by the hand of the artist. There is a newness in the relationship invigorated by circumstance.

Perhaps it is in this invigoration, informed by the act of art-making and received in the act of art-viewing, that can create these moments of liberation from our current circumstance. At least, that is a hoped-for response.

-- Paul Petro, February 2021






Robin Collyer Camp 1986 black and white fibre-based archival print 12 x 14 inches


ROBIN COLLYER was born in London, England in 1949, emigrating to Canada in 1956.

Collyer had his first solo exhibition in 1971. He works with photography, sculpture and public works. Throughout his career, his photographs and three-dimensional works have existed in parallel.

Robin Collyer has exhibited his sculpture and photography across Canada and the United States, and in Germany, Austria, Switzerland, England and France. In 1987 he exhibited at Documenta 8 in Kassel, Germany, and in 1993 his work represented Canada at the Venice Biennale. In 1999, an exhibition of Collyer's photographs was organized by the Art Gallery of York University, which then travelled to the Canadian Museum of Contemporary Photography and the Centre photographique d'Ile-de-France in Pontault-Combault, France. In 2012, Le point du Jour, in Cherbourg, France exhibited a large survey exhibition of his photographic work and sculpture.

Over the past four decades, Collyer's work in photography and three-dimensional assemblages has responded to a world that has moved from analogue to digital.

Collyer's early black and white photographs looked critically at the limits of the photographic image and its claims to authenticity. Juxtapositions of nature and man-made objects are a common theme. Colour photographs of subjects in nature from the 1990's examine the notion of beauty. Retouched urban images with all text removed highlight the role of commercial and corporate language in a public setting. This questioning of what we are looking at and what it depicts continues to be a central element of his photo works.

Collyer's photographs are understated, often ironic visions of the modern world. In his sculptures, the vernacular forms can be understood in the context of contemporary information and production systems.






Marlene Creates Looking at the City of Hamilton from Ten Paces Outside the Municipal Boundaries, Hamilton Pre-Amalgamation 2000, 2000 30 azo dye (Cibachrome) colour photographic prints 9 ½ x 14 inches each, 55 x 95 inches overall


MARLENE CREATES lives and works in Portugal Cove, Newfoundland & Labrador. For almost 40 years her work has explored the relationship between human experience and the land, and the impact they have on each other. Since the mid-1970s, her work has been presented in over 350 solo and group exhibitions and screenings across Canada (including several nationally touring solo exhibitions) and in Austria, China, Denmark, England, France, India, Ireland, Korea, Scotland, and USA. Since 2002 her principal artistic venture has been to closely observe and work with the 6 acres of boreal forest where she lives.

In 2015, Susan Gibson Garvey, guest curator at Dalhousie Art Gallery, Halifax, NS, and Andrea Kunard, photography curator at the National Gallery of Canada, began preparations for a forty-year career retrospective of Creates' work. They successfully applied for a MAP grant (2016) and established a touring exhibition, 2017- 2020, that premiered at the Beaverbrook Art Gallery, Frederictton, NB, and travelled to Dalhousie Art Gallery, Halifax, NS, Confederation Art Centre Gallery, Charlottetown, PEI, Carlteton University Art Gallery, Ottawa, ON, and The Rooms Provincial Art Gallery, St John's, NFLD. The exhibition was accompanied by a catalogue, Marlene Creates: Places, Paths, and Pauses 204 pages, hardcover, printed in French and English editions.

Awards include the Artist of the Year Award from the Newfoundland & Labrador Arts Council (1996), the CARFAC National Visual Arts Advocate Award (2009), the VANL-CARFAC Long Haul Award for Excellence in the Visual Arts (2009); the BMW Exhibition Prize at the Scotiabank CONTACT Photography Festival for her exhibition at Paul Petro Contemporary Art (2013), and the Grand Jury Award at the Yosemite International Film Festival (2014). She was elected to the Royal Canadian Academy of Arts in 2001.

In 2019 Marlene Creates received a Governor General's Award in Visual and Media Arts for her lifetime artistic achievement.






Gary Evans Pond 2020 oil on canvas 16 x 12 inches


GARY EVANS was born in Weston Super Mare, England and resides in Alliston, Ontario. His paintings challenge traditional notions of perception and experience of the Canadian landscape. Evans states, "abstraction for me has always been extrapolated from the real. In using it that way I hope to talk about the phenomena of perception that we all experience."

Of his more than twenty solo exhibitions highlights include a touring survey exhibition of his work, Seeing Things: The Paintings of Gary Evans, curated by Stuart Reid, which toured Canada between 2000-2002 as well as a survey of paintings, Station, curated by James Patten at The Art Gallery Of Windsor in 2008 and a 15-year survey, Farther Afield, curated by Renee van der Avoird at the MacLaren Art Centre, Barrie, in 2016. His work was the subject of a 25-year collection-based survey at Paul Petro Contemporary Art in July-August, 2020.

Evans is a graduate of the Ontario College of Art (1989) and is the Coordinator of the School of Design And Visual Art, Georgian College, Barrie, ON. Evans has been exhibiting at PPCA since 1995.







Jay Isaac Mural Study #13 2021 acrylic on canvas 43 ½ x 110 inches


JAY ISAAC (b.1975, Saint John, NB,) studied at the Emily Carr Institute of Art and Design, Vancouver, BC (1993-1997) and at the Cardiff Institute of Art and Design, Cardiff, Wales (1996). His work has been widely exhibited, with notable exhibitions at Galleria d'art moderna di Bologna, Bologna; MOCA Toronto; Mercer Union, Toronto; Galerie Kunstbuero, Vienna; The Power Plant, Toronto; White Columns, New York; Cue Art Foundation, New York; Agnes Etherington Art Center, Kingston, ON; Weatherspoon Art Museum, Greensboro, NC; The AGO, Toronto; CAG, Vancouver; Night Gallery, LA; Monte Clark Gallery, Toronto/Vancouver; Beaverbrook Art Gallery, Fredericton, NB; soon.tw, Montreal; Galleri Benoni, Copenhagen; McIntosh Gallery, London, ON; Paul Petro Contemporary Art, Toronto.

Isaac was co-founder and publisher of Hunter and Cook Magazine (2009-2011) and founded and ran the @nationalgalleryofcanada Instagram account (2015-2016). He has been the recipient of numerous awards including, most recently, Canada Council project grants (2017, 2018, 2021) an Ontario Arts Council grant (2018), the Chalmers Art Fellowship funded by the Ontario Arts Council (2019), an Ontario Arts Council Exhibition Assistance Grant (2020). Isaac's work can be found in numerous public and corporate collections in Canada. Isaac lives and works in Toronto, Canada.






Rae Johnson Swamp Irises, August, Flesherton Pond 1999 oil on wood panel 48 x 72 inches


RAE JOHNSON (1953-2020) was born in Winnipeg, Manitoba. She attended the New School of Art in Toronto from 1975-1976 and later graduated from the Ontario College of Art where she won the Forsyth Award for painting in 1980. She began teaching at OCA in 1987 and became an associate professor in the Faculty of Art, in the Drawing and Painting Department, and was an advisor in the Masters Program IAMD and CCP.

Johnson's paintings have been exhibited nationally and internationally since 1978. She is a co-founder of the seminal artists' collective, ChromaZone, which spearheaded the figurative painting movement in Toronto during the 1980s. Johnson was active with the organization, as co-director and curator, and produced exhibitions from 1981 to 1986. Her work was featured in Toronto Painting '84 at the Art Gallery of Ontario. Outside of Canada, Johnson has shown as part of O KromaZone, Das Institut Unzeit, Berlin (1982); the 49th Parallel in New York City (1983); ChromaZone: Fire and Ice, Galerie Walcheturm, Zurich (1986); and the Canadian Cultural Centre, Rome (1993).

Johnson curated an exhibition about the 1980's Queen St. West art scene, This is Paradise, at MOCCA, Toronto (2011), and curated the exhibition Toronto/Berlin 1982-2012, in Berlin (2012). More recently her work was included in Form Follows Fiction, curated by Luis Jacob, at the Art Museum, University of Toronto (2016).

Johnson exhibited at Carmen Lamanna Gallery from 1982 until Lamanna died in 1991, and Paul Petro Contemporary Art, 1994-2009. Johnson's estate is represented by Christopher Cutts Gallery, Toronto.






Olia Mishchenko Untitled 2021 ink on paper 18 x 23 inches


OLIA MISHCHENKO was born in Kiev, Ukraine and moved to Canada in 1997. After a year at Central Tech, Mishchenko studied architecture and art history at the University of Toronto (1998-2004). Mishchenko's artistic practice is predominantly drawing-based and focused on natural and built environments, and their inhabitants.

Mishchenko lives and works in Toronto, where she teaches in the Environmental Design Programme at OCADU, and at the Art Gallery of Ontario. Permanent collections include the Art Gallery of Ontario and the National Gallery of Canada.






Paul Morrison Untitled from Calathidium 2006 silkscreen edition of 45 38 ⅜ x 28 ¾ inches


PAUL MORRISON was born in Liverpool, UK, in 1966. He studied at Hugh Baird College Liverpool 1983-85, Sheffield Polytechnic 1985-88 and Goldsmiths' College 1995-98. He lives and works in London and Sheffield. His work is inspired by botanical drawings, animation and historical engravings. Morrison states, "I'm interested in cognitive landscape, the terrain that one sees, somewhere behind the eyes."

His first solo show was at Habitat, King's Road, London, in 1996. Since then he has shown paintings, sculpture, prints and murals in the UK, Europe and the USA and was included in the Jerwood Painting Prize in London in 2002. Solo shows of his work have been hosted at the Millennium Gallery, Sheffield; Rhode Island School of Design; the Las Vegas Art Museum; Bloomberg Space in London; Fondazione Volume, Rome; Galleria d'Arte Moderna e Contemporanea, Bergamo; Kunstverein Ulm, Art & Public, Geneva; Tomio Koyama Gallery and Taro Nasu, Tokyo; Le Magasin, Grenoble; Kunsthalle Nürnberg; PS in Amsterdam; The Contemporary Museum of Honolulu; the Irish Museum of Modern Art in Dublin; the Aspen Art Museum; and The Hammer Museum, Los Angeles, amongst other locations.

He has been part of numerous group exhibitions including those at Philadelphia's Moore College Gallery, Glasgow's Mitchell Library, the FLAG Art Foundation in New York, Haunch of Venison, New York, Two Rooms, New Zealand, Gallery Hyundai, Seoul, The Albright-Knox Art Gallery in Buffalo, New York, Städel Museum in Frankfurt, Tate Britain, Tel Aviv Museum of Art, and both The Drawing Center and the Museum of Modern Art in New York.






Ged Quinn Honour Thy Superiors from Utopia Dystopia 2011 etching with lithographic overlay and hand-applied watercolour edition 11/48 20½ x 25¾ inches


GED QUINN was born in 1963 in Liverpool. He lives and works in Cornwall, UK.

Richly layered with meaning and symbolism, Quinn's works combine complex histories and mythological references with the traditions of landscape, still-life and genre painting. Drawing on inspiration from art history, Quinn uses paintings by artists such as Claude Lorrain, Caspar David Friedrich and Jacob van Ruisdael as source material to form multi-layered narratives. Themes of religion, politics, literature and film permeate his works. Yet with decidedly Surrealist undertones, Quinn's dream-like paintings resist interpretation.

Notable solo and two-person exhibitions include: Ged Quinn, Stephen Friedman Gallery, London, UK (2019–2020); Richard Patterson | Ged Quinn, Galleria Mucciaccia, Rome (2018); Rose, Cherry, Iron Rust, Flamingo, Pearl Lam Gallery, Hong Kong, (2017); Ged Quinn, Stephen Friedman Gallery, London, UK (2014); Ged Quinn, New Art Gallery Walsall, West Midlands, England (2013-2014); Endless Renaissance, Bass Museum, Miami Beach, Florida (2012-2013); FOCUS, Modern Art Museum of Fort Worth, Texas, USA (2012); Ged Quinn, Stephen Friedman Gallery, London, UK (2010); The Heavenly Machine, Spike Island, Bristol, England (2005) and Utopia Dystopia, Tate St Ives, St Ives, UK (2004).

Major group exhibitions include Comeback: Art-Historical Renaissances, Kunsthalle Tübingen, Germany (2019); Living Ruins, Worcester Art Gallery and Museum Worcester, England (2019); Land, City and Sea: British Masters from the David Ross Collection, The Collection Museum, Lincoln, England (2018-2019); Heads Roll: An Exhibition Curated by Paul Morrison, Graves Gallery, Yorkshire, England (2018); Cake and Lemon Eaters: Viktor Pivovarov and Ged Quinn, Galerie Rudolfinum, Prague and The Gallery of Fine Arts in Ostrava, Czech Republic (2014); Looking at the View, Tate Britain, London, England (2013); The Witching Hour, Water Hall, Birmingham Museum & Art Gallery, Birmingham, England (2010); Lust for Life & Dance of Death, Kunsthalle Krems, Krems an der Donau, Austria (2010) and Newspeak: British Art Now, Saatchi Gallery, London and State Hermitage Museum, Saint Petersburg, Russia (2009).

Quinn's works are included in prominent collections internationally, including: Tate, London, England; Victoria & Albert Museum, London, England; British Museum, London, England; Olbricht Collection, Essen, Germany; FLAG Art Foundation, New York, USA; Modern Art Museum of Fort Worth, Texas, USA and Tel Aviv Art Museum, Israel.






Mélanie Rocan Fireflies 2021 acrylic and glitter on canvas 18 x 14 inches


MÉLANIE ROCAN is a Franco-Manitoban artist based in Winnipeg. She has a BFA from the University of Manitoba (2003) and an MFA from the University of Concordia in Montreal (2008) during which time she participated in an exchange program at the Glasgow School of Art in Scotland. Rocan states, "During the making of the work there is a constant shifting between building and re-building within the framework of memory, allowing for new territory to be explored. I often let the painting linger between movement and stillness, and this is captured in the final product. I am also mindful of contradictions, which I find interesting — the dualities that are in constant flux, the oppositions and harmonies within the human condition."

As a three-time semifinalist for the RBC Painting Competition, Rocan has exhibited at the Power Plant in Toronto, the Museum of Contemporary Art in Montreal, the Contemporary Art Gallery in Vancouver, the Winnipeg Art Gallery and the Museum of Contemporary Canadian Art in Toronto.
In 2012 – 2013 her work was the subject of a survey exhibition, Souvenir involuntary, organized by the Doris McCarthy Gallery, at the University of Toronto Scarborough campus. This exhibition toured to the Kenderdine Art Gallery in Saskatoon and Plug-In ICA in Winnipeg. The bilingual catalogue includes an essay by Josée Drouin-Brisebois.

Rocan is the recipient of awards and grants from the Canada Council, Manitoba and Winnipeg Arts Council. Collections include the Agnes Etherington Art Centre (Kingston, ON), Winnipeg Art Gallery, Doris McCarthy Gallery (Toronto), TD Bank (Toronto), RBC (Toronto) and the Manitoba Arts Council. Rocan teaches at the University of Manitoba.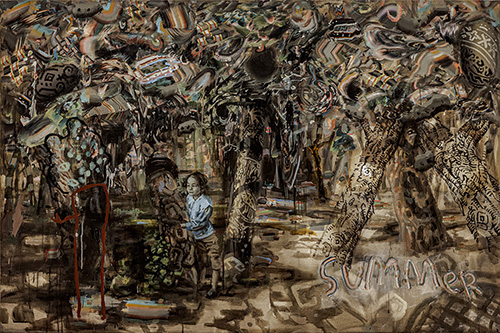 Carol Waino Apprehension (Summer) 2017 acrylic on canvas 44 x 66 inches


CAROL WAINIO was born in Sarnia, Ontario in 1955. After studies at the Nova Scotia College of Art and Design and the University of Toronto, she earned an M.F.A. from Concordia University in 1985. She taught in the Visual Arts Department at the University of Ottawa from 1987 to 1989 and was an assistant professor in the Department of Visual Arts at Concordia from 1989 to 1998. She lives and works in Ottawa, where she is an adjunct professor at the University of Ottawa.

Wainio's exhibition, The Book, curated by Diana Nemiroff for the Carleton University Art Gallery, contains works from 2002-2010. A comprehensive hardcover catalogue is available. Recent exhibitions include Old Masters, the Kitchener Waterloo Art Gallery, (2013), the group exhibition Her Story Today, curated by Marie-Eve Beaupré, October 2015 - August 2016, Musée des beaux-arts de Montréal. In 2018 Wainio was included in the inaugural group exhibition We'll All Become Stories at the new Ottawa Art Gallery. In 2019 she was named the Artist-In-Residence at the Diefenbunker, Ottawa, which led to the exhibition Disasters for Little Children. Wainio's work was included in the group exhibition, Painting Nature with a Mirror, curated by Marc Lanctot at the Musée d'art contemporain de Montréal in 2020.

Carol Wainio is a recipient of the Governor General's Award in Visual and Media Arts (2014).