Postcards
In conjunction with Papier 16 @ Cafe Titanic in Old Montreal
April 22 - April 24, 2016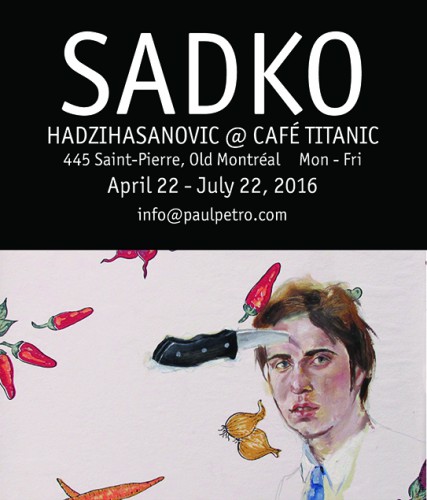 Paul Petro Contemporary Art and Cafe Titanic are pleased to Postcards by Sadko Hadzihasanovic in conjunction with Papier 16. This exhibition continues to July 22, 2016.

In this exhibition of small watercolours and mixed media works on wallpaper, Sadko references experiences in Barcelona, Bosnia, Croatia, Cuba, Mexico and Montenegro. The images depict travel encounters and allude to an altered family history that brought the artist to Canada in the 1990s when war broke out in Sarajevo. The trans-Atlantic travel implied by Cafe Titanic creates a setting for these works.

Please visit the following link for a text by the artist and an essay by Will Gorlitz: http://paulpetro.com/exhibitions/413-Young-Romi

Sadko studied at the Academy of Fine Arts in Sarajevo, Bosnia, earned his MFA at the University of Belgrade, Yugoslavia (1984) and arrived in Canada in 1993. Since his arrival from Bosnia, Sadko has participated in over sixty exhibitions in public galleries and artist-run centres across Canada. He is the recipient of visual arts grants from Toronto Art Council, the Ontario Arts Council and the Canada Council for the Arts. Sadko continues to explore identity, and its cultural and social implications, with an extensive portraiture-based body of work using mixed media and collage, and an array of references to popular culture.