Phantome Aesthetique - Notes From Funeral Camp
January 16 - February 14, 2015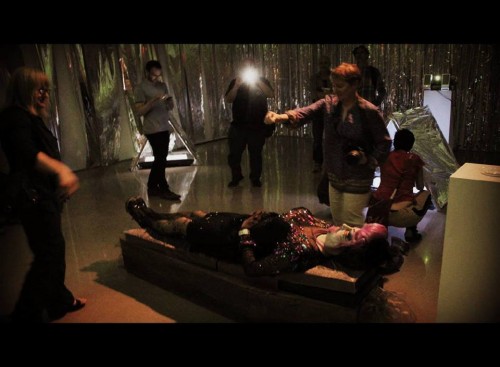 Phantome Aesthetique - Notes From Funeral Camp

"Phantome Aesthetique - Notes From Funeral Camp is an exhibition about death, play and queer spirituality via contemporary Witchcraft and alternative spiritual practices and rituals. It is an extension and furtherance to my recent MFA thesis exhibition. Susan Sontag's essay, "Notes on Camp" and Elizabeth Kübler Ross' , "On Death and Dying" are an unlikely pairing of texts that are combined to form the crux of concepts for Phantome Aesthetique.

"Phantome Aesthetique includes The Elements Quintet, videos created in Winnipeg for my Mistress of the Dark Arts (MFA) exhibition Funeral Camp at the University of Monsanto (Manitoba). Four of these works depict the ancient four elements of Earth, Air, Fire and Water. The fifth work in the Quintet of videos portrays Spirit. All of these works use the device, now almost a standard feature at funerals in North America, of a video slide show or a person's life at a memorial service or funeral. Each video features a specifically created dance music track, imparting a unique form of synaesthesia for each element. The Elements Quintet will be screened separately in The Works on Paper Room at PPCA.

"Psytrance Funeral Bouquet and Phantome Aesthetique are two new works that have been created in a similar fashion and have be made specifically for this show. These two works will be premiered as part of the installation and will be incorporated with performances at the opening reception.

"Psytrance Funeral Bouquet is composed of eight photo stills that are digitally manipulated to create an image of a funeral bouquet that changes colour like the lighting in a dance club. The accompanying music was created in an ad hoc '90's psytrance style. Still photographs of the same images of the bouquet will be part of the over all installation.

"Phantome Aesthetique uses found digital photographs of all things spectral and ghost-like. The accompanying music samples Yves Saint Laurent's retirement speech to exemplify his reasoning, "Every man needs aesthetic ghosts in order to live."

"Other works that form this installation are a series of text-based glitter mono prints entitled Deathy, tombstone rubbings Rubbings/Robbings that use graphite and glitter and a special performance Drag, Death, Dance with Ivory Towers and choreographed by Keith Cole."

-- Andrew Harwood, December 2014

Due to the space limitation only five people at a time will be able to view this opening night performance on a first come first seated basis.


Very special Thank You to: Ivory Towers, Keith Cole, Paul Petro, Laura Cowell, Deborah Hahn, Simon Farrington, Kate Munro, The Manitoba Arts Council Student Bursary Program, The Marvin and Irma Penn Scholarship, The History Department - University of Manitoba (Sharon Alward, David Churchill and James Bugslag my fabulous Thesis Committee), Pictoria Secrete, C. Graham Asmundson, Andrea von Wichert, Andrew Kngsley, Talia Syrie, Whitney Rose (Klaassen), Michelle Johnson, Carolyn Mount, Mary Reid and Donna Jones.

Andrew Harwood gratefully acknowledges the generous support of the Manitoba Arts Council Student Bursary Program and the Irma & Irving Penn Scholarship.



Andrew Harwood is a Toronto-based artist, writer, curator, gallerist and NSCAD grad. Recent exhibitions include Séancé at Platform Centre for Photographic & Media Arts, Winnipeg. He is past Director at Mercer Union, A Space Gallery and General manager of C Magazine in Toronto. For the last four years, before returning to Toronto, he was the Director of Zsa Zsa West, a DIY commercial and experimental art space, in Winnipeg that promoted works in all media by queer, as well as emerging and artists from under-represented communities.

Harwood's works are in the collections of the Bank of Montréal, The Toronto Dominion Bank, The University of Guelph, the Agnes Etherington Art Centre, Kingston, the Tom Thomson Art Gallery, Owen Sound and private collections in Canada and internationally.