Opting Out
May 20 - June 3, 2005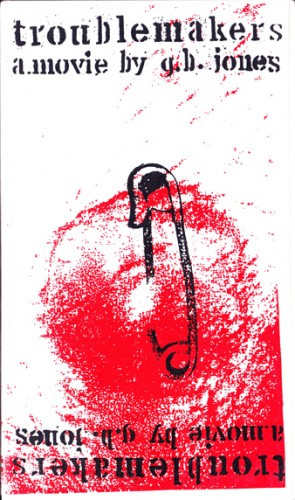 Co-presented with the Inside/Out Festival

Opting Out

Over the past twenty years Dennis Day and GB Jones have consistently explored queer identity from the perspectives of pop and punk respectively. From growing up gay in Newfoundland to Toronto's underground queercore scene their work has deliberately inhabited the critical margins, opting out of the treadmills of consumer culture and mainstream gay lifestyle.

Neurotics Anonymous (2005, 12 min. Betacam SP) is a satirical look at a society obsessed with labelling and treating so-called mental disorders even when various cures are often more problematic than the initial disorder.

No lifestyle is spared in these four tidy vignettes, which speculate that attaining mental health and well-being is perhaps just a stepping stone to a more profound level of despair.

The Troublemakers follows the lives of four down-on-their-luck characters. Surrounded by the vestiges of conspicuous consumption such as cars, clothes, toys and magazines, they exist outside of the culture of consumerism - instead creating their own. Struggling to survive outside of society while heeding the call to their own desires, they utilize the aesthetics of poverty to fashion their lives. By devising strategies to navigate a surveillance society, they either evade or perform for cameras everywhere.

The Troublemakers is equally fact and fiction, documentary and performance, home movie and narrative - the line is blurred and distinctions meaningless. Shot in the condemned home of director G.B. Jones and lead actors Caroline Azar and Bruce laBruce, the total cost of the film was the price of 7 catridges, 3 minutes in length, of Super 8 film plus developing and transfer to video with a one-to-one ratio. There are no outtakes.